GUITARS, GUITARS, AND MORE GUITARS: AN INTERVIEW WITH WBJB'S ANDREA KOENIG
by Mike Doktorski

On Sunday, February 17, Brookdale Public Radio WBJB-FM presents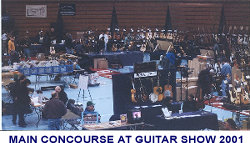 its 5th Annual Guitar Show at the campus of Brookdale Community College. The event has grown over the past half decade to encompass clinics, live music, and of course vendors and afficianados of guitars in all sizes and shapes.

Andrea Koenig, development director at WBJB and coordinator of the Guitar Show, recently took a few minutes to give NBU the down-lo on this year's event.

NBU: What's the background of the Guitar Show, i.e. how did the idea come about?
Andrea: The show started with Joe Civitano, owner of Raritan Bay Guitar Repair (www.repairguitar.com). In 1993 he held a networking party to thank his clients for his first year of business. It was so successful that the next year vendors were invited to display some of their merchandise. That year Joe approached Brookdale Public Radio, WBJB-FM, to co-sponsor the event and use it as a fundraiser. From there we moved the venue to Brookdale and it's grown bigger every year, last year we had 2,500 in attendance.

NBU: How many shows have you done so far?
Andrea: This year marks our 5th annual show (they're held every year on the Sunday of President's weekend).

NBU: What can musicians hope to get out of it?
Andrea: This area is really brimming with fantastic talent, musicians can get a lot of out the annual guitar show. Not only can they get a look at all types of equipment and accessories but they can network with each other as well as industry professionals and check out live music. I think the biggest thing the show has to offer though is free clinics (with the price of admission) on all different styles of music plus tons of useful information to help anyone from the accomplished musician looking to brush up to the newcomer looking to make it big.

NBU: Can people bring guitars that they want to sell? Will guitar players find special deals on instruments they want to buy?
Andrea: We really encourage people to bring guitars. We're offering half price admission ($5) to anyone who brings a guitar to sell or trade,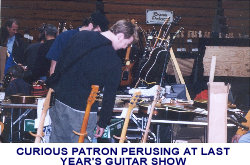 or really any instrument. Last year people brought everything from mandolins to guitar skeletons to accordions. Most of the vendors are negotiable in their pricing especially on a trade. Guitar players can check out custom made guitars, basses, amps, and my favorite is the guy that brings just tubes --he's got every kind you can imagine, great for whatever sound you're looking for. If you have a bunch of guitars, musical equipment, CDís etc that you're looking to sell or know someone who does, considering getting a table, they're only $125 each (before February 8th) thatís not too bad if you split it with someone. This year with Music Makers of Wall on board as another sponsor we're expecting about 3,000 in attendance.

NBU: What if someone is not a musician? Would they still find it to be a fun thing to do?
Andrea: Not only musical instruments will be sold there. We're expanding to include a variety of items, including jewelry and crafts. We'll have a number of non-profit organizations like Clearwater there too plus all kinds of Brookdale information, from Sports Camps to Communiversity. Not to mention live music going on all day long.

NBU: What's the connection between WBJB and the Guitar Show?
Andrea: 90.5 the NIGHT (WBJB) partnered early on with Joe Civitano of Raritan Bay Guitar Repair to promote and grow the show. We're the sponsor and promoter, all proceeds benefit the station and they go right back into programming and special events. It's one of my favorite events because I got to see the show go from initial meetings to the very successful events they are today, and it grows every year. Because there are no other guitar shows on the Jersey shore we're thrilled to be able to bring this kind of event to the area. People often write us and call us "the music lover's station", and they couldn't be any more right! We love music and we love to support local musicians. In addition to promoting and coordinating local music events like Jazz in the Park and our own Songwriter's Showcase, we maintain a mailing list of over 700 area musicians. They're sent regular information that might interest them, like festival contacts, so they can be involved in some of the local events. If you'd like to be on the list send your e-mail address, your snail mail address, and the kind of music you play to akoenig@wbjb.org (make sure to mention that you'd like to be included on the musicians' mailing list.)

NBU: I know you're running some clinics. Describe them.
Andrea: We're really expanding on the clinics this year. They were so popular that we're doubling up on the clinic rooms. We're going to be doing them upstairs as well as downstairs. (Make sure to pick up a program when you arrive so you don't miss a thing!). So far the clinics we've added are: Bass guitar with Jon Rogers, former bassist of Blue Oyster Cult, live "Guitar School" w/ favorite Box of Blues host Dave Mac (Sundays from 9pm to Midnight), Jazz Guitar, Basic Guitar Repair and Maintenance (including tone wood selections), Blues Guitar, Women in Music with Sisters, Panel 1: a discussion with local radio stations and media discussing how to get your music on the air and more plus we're looking into adding panels with A & R scouts, entertainment lawyers, local club owners, promoters and more. As soon as we've finalized the schedule, you can check it out on www.90.5thenight.org/show. We'll be putting the music schedule on there too.

NBU: Do you play guitar? If so, what kind of guitar do you have?
Andrea: Yes, and believe it or not I was really inspired to get one because of the guitar show. I've always wanted to learn but I finally purchased one last year. It's a Danelectro 56-U2 in beautiful aqua burst. I love the way it looks almost as much as how it sounds. My fiance found an amp on the side of the road waiting for garbage pickup and thank goodness he did. It has THE perfect crusty sound I was looking for. I have to admit I'm not too good yet but you don't have to be when you're playing crusty punk rock!

For complete up-to-the-minute info on this year's Guitar Show, click on over to www.wbjb.org/show, or contact Andrea Koenig (akoenig@wbjb.org, 732-224-2492).

This interview was originally published on NBUnderground.com in January 2002.