MR. RAY STARTS DREAMING
By Jennifer Salvato Doktorski

By night, Ray Anderson is one half of the pop/rock duo Blue Van Gogh, a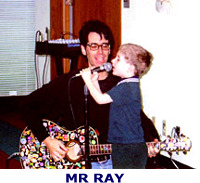 member of Meatloaf's band and a consummate rocker with a resume two-decades long.

By day, he's Mr. Ray. And among young music fans who aren't even as tall as his sticker- laden acoustic guitar, the alter-ego of Ray Anderson has become somewhat legendary. Playing to pint-sized audiences that range from eight months to more than 10 years old, Mr. Ray is bringing rock and roll to kids throughout Central Jersey and like the title of his collection of original children's music, he is getting them to Start Dreaming.

Q. When did "Mr. Ray" come into being?
A. Almost seven years ago, Patti (my wife), and I were right in the midst of blue van gogh (our pop/rock project) when she was part-timing at a local pre-school and asked me to come in and sing some tunes for the kids that were getting a tad "outta-hand." I went there, took out my guitar, started singing "Yellow Submarine," and the Director poked her head in, and asked me if I'd like to come and sing on a regular basis. I remember thinking, "I could get PAID for this??? This is too fun." That's how it all started...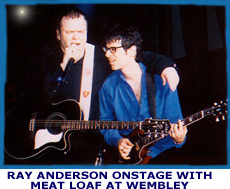 Q. When did you start composing original music for children? When did the CD come out? How many have you sold and where can parents and kids buy the CD?
A. I've always written songs that weren't just R&R. When me and my sisters were really young, they were budding ballerinas, and I would write songs for them to dance to, but not classically-orientated songs -- just zany, off-the-wall tunes. My kids' album, Start Dreaming, is all-original -- so many kids' albums I've heard have re-written traditional songs -- like Barney singing his I Love You song, which is really This Ol' Man, but at a quaaludian dirge...The album came out in April of 2000, and I've sold close to 3,000, but I just landed a national distribution deal with Sugarbeats Entertainment. One of the co-owners is Carole King's Daughter, Sherry Goffin-Kindor. So while my album, Start Dreaming, has been kind of a Central New Jersey phenom, the bigger picture doesn't even know it exists, so I'm really psyched. This deal includes management too, and the gal who will be managing me, Bonnie Gallanter, manages the Sugarbeats and the Broadway Kids, who are two groups often on Rosie, and other morning shows. Bonnie was one of the founders of the CMJ Music Marathon, and ran it for nine years. She's got a great indie spirit, which I love. She's turned down offers from the majors to buy her acts out -- good for her.

Q. You seem to have quite a following...where and how often do you perform?
A. I perform at pre-schools all week...I'm not really a teacher, I just perform original music for kids and I turn them onto all types of instruments, styles of music. I do kids' events all the time, too. From upscale NYC parties for show biz parents, to school shows and house parties in good ol' New Jersey.

Q. You said that performing for children feels like going to church sometimes, what are some of the more rewarding aspects of working with kids?
A. I swear these kids are adding years to my life. For the most part, I'm the first live entertainer their eyes and ears have ever heard. When I lay a new tune on them, I can always tell they love it if they say, "Play it again, Mr. RAY!!!" And I know when they don't like it...they just don't react! But yeah, they're such an utter purity there in their eyes...by the time we reach our late teens-20's, we've already soaked up so much information, that many of us lose that purity of thought, fun...and love for each other. Kids love being around each other. The other day I realized that I'm around kids more than adults! It was startling in a way, but I'm not complaining.

Q. Do you hope some kids will pick up the guitar and become a rocker in the making because of you?
A. Parents have to buy guitars all the time for their kids because of me, they tell me, AND put stickers on it...My goal is to turn kids onto playing instruments and forming bands...too many boy/girl singers that don't play instruments.

Q. Can you talk about being approached by PBS and how that came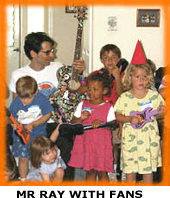 about?
A. A few months ago, a well-known TV producer approached me about having my own show for kids. She was executive producer for the Montel Williams Show, and the View, etc...She wrote a wonderful script for a typical episode, called it, The Mr. Ray Show, and is actively pitching a show for me. I'm Number One on her list right now...it's really exciting. PBS, Warner Bros. and others are extremely interested. It'll be mostly live action with some groovy, funky animation, designed for pre-schoolers, but enjoyable for parents, as well, like my music. I've been in this business long enough -- all I can say is, we shall see.

Q. Did you ever imagine when you first got into music that you'd make a niche for yourself in the children's market?
A Well, I gotta say, that no matter what I get involved in, I never do it half-way. I'm over-ambitious to a fault, and I will give a project my "all," see it through. The great unknown is having someone or something in a position to take you to the top -- be on the same page as you. But that is what I thrive on. At the risk of sounding not too humble, as soon as I saw the reactions of those kids in the early years, AND the reactions from parents I get, kind of welcoming me for saving them from Barney, et al, I knew I had something special here.

Q. I think you're doing a service to people our age who were raised with rock and can't stand Barney's songs.? The response from parents must be pretty positive, no?
A. All those parents raised on rock, instantly hear those Pop/Rock sensibilities in my kid songs -- I wear some of them on my sleeve. The parents are too much...they constantly tell me they listen to my album even when the kids aren't around.

Q. Kids have such a short attention span but you seem to be great at holding their interest.? Talk about some of the techniques you use (like having them come up and sing a "solo") to get kids involved and keep them in the moment?
A. Humor is a big part of that -- more like zaniness. Beside worshipping the all things R&R, I've always loved entertainers that transcended age, like Jerry Lewis, Danny Kaye, Dick Van Dyke, etc (all in their early prime, of course). These dudes killed me, still do. It's that keeping one foot in childland, and one foot in the grown-up world. It's a balance -- you either have it ....or ya don't.

Q. Does it warm your heart when kids like the little boy at one of you recent shows raise their hands and tell you they want to sing A Hard Days Night?
A. How cool was that? Being the Beatle fanatic that I am, that absolutely floored me...these days, when I call a kid to come up and sing a solo on the mic, it's generally ABC's, and sometimes, disappointingly, Who Let the Dogs Out! But to hear that little boy singing a Fab 4 tune....I thought, ya know, there IS hope!

This article was originally published on NBUnderground.com in February 2001.