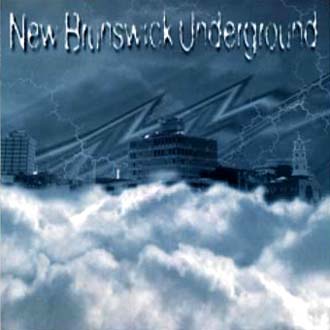 TEN YEARS AFTER
By Mike Doktorski
On October 18-19, 1996, the Court Tavern hosted the record release parties for the New Brunswick Underground compilation CD. Nearly all of the NBU bands performed at the release parties, including the top local acts of the day: Boss Jim Gettys, Bionic Rhoda, Bunt, Three to Six Inches, Lumous, The Stuntcocks, Floodroom, et al. The Court's basement was jam-packed the whole time, and the atmosphere was electric. Needless to say, it was a phenomenal weekend of rock (despite Night 2's monsoon) and a significant crossroads for me personally…the culmination of a project to which I'd devoted nearly a year of my life.

Reading through the NBU liner notes now, one of the things that's conspiciously absent is the internet. Can you believe that only two acts (Spook Handy and Shrubs, for those keeping score) listed websites for themselves! A few more listed email addresses. That would all radically change, of course, in a few short years. In 1996, the world was poised on the cusp of a technological revolution that would forever alter the landscape of indie rock and the music industry (hell, EVERY industry).
Anyway, on the ten year anniversary, I thought it would be cool to once again profile those original 16 bands and musicians who contributed to NBU a decade ago. What happened to all those folks? Are they still making music? Inquiring minds want to know…or something like that.



BOSS JIM GETTYS
Boss Jim Gettys formed when guitarist/vocalist Mark Segal and drummer Austin Faxon (both formerly of the band Real) joined forces with bassist Bob Stein in 1994. The trio forged their identity in the smoking hot cauldron of punk-inflected hard rock that defined the early nineties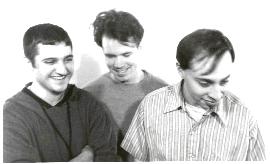 New Brunswick scene. BJG released a self-titled CD in 1995 and the ambitious double CD Tigrebeat in 1999, shortly before disbanding for good. Segal went on to work as a sometime producer and engineer at Technical Ecstasy Studios, and briefly returned to performance as guitarist for the Wahoo Moment (see Bionic Rhoda, below). Since BJG's demise, Faxon has performed and recorded with a plethora of local acts (LoveGas, The Stuntcocks, Skeeter, Mars Needs Women), and currently drums for the Groucho Marxists. 'Bossjimbob' Stein moved to Seattle several years ago and now designs video games for a living...he also recently became a dad.

BIONIC RHODA
Perhaps no other act epitomized the eclecticness and potential of the mid nineties local music scene more than Bionic Rhoda. Acoustic and electric, punk to pop to jam, Rutgers co-eds to hipster scenemakers…BR's wide tent brought everything and everyone together. Bionic Rhoda imploded in 1998 a year after releasing their one and only album, but songs like "Souped Up Soft Drink," "Tricycle," and "Holly

Hobbie" live on in the memories of the former denizens of that era's rock scene. After BR's demise, bassist Brett Neilly went on to join singer/songwriter Matt Witte's band (New Blood Revival) who toured the country and recorded an album for Atlantic Records until breaking up last year. After a stint with NJ avant garde act The Wahoo Moment, vocalist Todd Starlin and drummer Tom Bendel moved to Philadelphia and formed the band Like Moving Insects, who still perform together I believe. Guitarist/vocalist Jeff Scavone (whose fantastic Kitra compilations came right on the heels of NBU) briefly formed his own band Magic Mountain and continued to run his Powerbunny record label for a bit, before moving to Boston and then to Philadelphia. Lead guitarist Anthony Ilczuk joined Bunt for several years and played on their last two albums before moving to Florida in '01...he's now in a Naples FL band called the Overtone Archive.

BUNT
Following a chance meeting (according to legend) at the premiere of the seminal Gen X flick Reality Bites, guitarist Mike Iurato and vocalist Chris Martine formed Bunt in 1994. By '96, the band was anchored by the rhythm section of John Vitelli (bass) and Brian Stoor (drums). Over the course of four full-length albums, their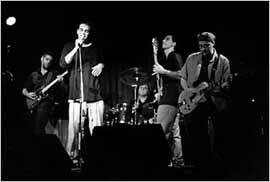 sound matured from the earnest jangle pop of 1995's She Happens to the textured soundscapes of '01 swan song The Pigeon Club, all released on Iurato's own Childlike Records imprint. After a few early years cutting their teeth at the Melody and the Plum St Pub, Bunt (like many bands whose roots were in Rutgers not the city itself) moved its base of operations from New Brunswick permanently, first to Hoboken and then to NYC. So where are they now? Soon after completing work on The Pigeon Club, Storr joined The Milwaukees with whom he toured and recorded until 2004. Iurato now owns and operates Jigsaw Sound, a professional mastering facility in Manhattan. Martine completed a Ph.D and is now an assistant professor of biology at SUNY-Plattsburgh, while bassist Vitelli remains in the game, now holding down the low end for NYC band Motel Creeps.

LOVE GAS
LoveGas formed in 1994 as a side project of then-Nudeswirl bassist Chris Wargo and guitarist/keyboardist Eric Kvortek, who initially utilized a rotating cast of local musicians to flesh out the best of Wargo's enormous stash of homemade demos. In late '95, following Nudeswirl's demise, a more permanent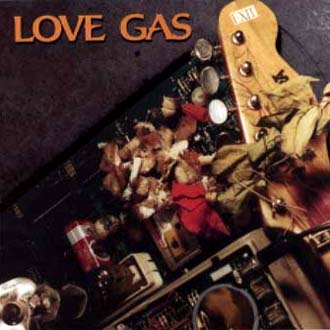 LoveGas lineup came together when Wargo moved over to lead vox/guitar, and bassist Mike Doktorski (i.e. me) and drummer John Gray came onboard. Gray left the band immediately after the release of NBU and was replaced by Austin Faxon (see Boss Jim Gettys above) and the re-vamped lineup released LoveGas' debut CD on Childlike Records in 1998. Two years later, the band made significant progress on a second album, but it was never completed, and Love Gas bowed out for good in '01. Soon thereafter, Wargo retired from live music performance and began a career in chemical engineering. Kvortek joined Trax East Studios as house engineer, where he works still. Gray went on to drum for New Orleans band Rik Slave & The Phantoms for several years. As for Doktorski, he currently performs with and manages NJ's #1 80s tribute band Amethyst, maintains the website you're reading, and released a solo CD in '06.

NEPENTHE
Brothers Todd (guitar) and Matt (bass) Mizenko, together with drummer Jamie Boruch, had played together since they were Mercer County teens and then Rutgers undergrads. The trio formed the band Ars Nova with keyboardist Eddie Konczal in '92, and changed their name to Nepenthe when vocalist Jason Rosenfeld joined in '94. Nepenthe's progrock meets britpop sound was an odd fit for the punk-drenched New Brunswick scene, but the band carved a niche for themselves with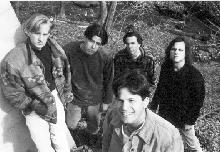 stellar musicianship and ambitious song structure, best captured on their 1996 album Everything Was Beautiful And Nothing Hurt. Following Rosenfeld's departure in 1998, Nepenthe carried on for another year with singer Vince Ascoli. They played their final show at the Budapest Lounge in November '99, and then (with the exception of Konczal) essentially retired from music. Matt Mizenko moved to California and has competed in a number of 'ironman' triathalons, while Todd Mizenko and Boruch settled into non-music careers and family life. Rosenfeld founded public relations firm Dry Grass Partners LLC (they handled the DVD releases of My So Called Life and Kids In The Hall). Konczal played with 80s tribute band Amethyst (see LoveGas above) until '04…he now writes and records instrumental music.

THREE TO SIX INCHES
Three To Six Inches were a co-ed agit rock band featuring husband and wife duo James (bass) and Lisa (lead vocals) Woodley. The band's early recordings were produced by Chris Wargo and Eric Kvortek of LoveGas. Three to Six Inches were a steady fixture on the New Brunswick club circuit during the mid 90s and were highly regarded in the local music community. But they disbanded shortly after the release of their one and only album As Long As I Don't in 1996, at which point the four band members more or less retired from live music performance, as far as I know at least. The Woodleys still live locally and have been known to pop into the Court Tavern on occasion. I completely lost track of drummer Bill Z so he may or may not have continued in music, no way to know.

MOONPHASE
Though not really a part of the New Brunswick scene proper, the East Brunswick-based Moonphase hold the distinction of being the very first band to officially commit to appearing on New Brunswick Underground, almost a full year prior to its release. Their heavy psychedelic sound was equal parts Pink Floyd and Black Sabbath in a Cream-esque power trio format featuring brothers Jim (guitar/vocals) and Mike (drums) York, along with the enigmatic 'Lawrence' (bass/vocals). The band released just a cassette-only demo before breaking up in 1998. Jim and Mike York still perform together in and around central Jersey with their old school R&B cover act Yorktown. Lawrence retired from music after Moonphase, and worked as an auto mechanic before moving on to some kind of internet business, the last I had heard.

LUMOUS
Perhaps the band that most epitomized the 'New Brunswick Sound' of the mid nineties was Lumous. Led by hulking frontman Andy Ickowicz, the band's 1995 cassette demo (co-produced by Mark Segal…see Boss Jim Gettys above) and 1998 full length B. Authorization combined the aggression of alt rock with the musical sophistication of metal…not too unlike Nudeswirl a few years before. Lumous was led by the twin guitar attack of Dave Hopkins and Shin Hsu, backed by the rhythm section of Bill Peragine (bass) and Greg Herzog (drums). So where are they now? Greg Herzog now drums for an NJ metal/hardcore band called Diesel Theory. As for the other guys…not a clue. Unfortunately, I completely lost track of most of Lumous when they broke up in '99. (if you're reading this guys, I hope you're well…and still rockin)

SPOOK HANDY
Folkie singer/songwriter Spook Handy was an iconoclastic addition to New Brunswick Underground...his song 'Shakes Away' made for stange bedfellows with the the harder-edged music which dominated the compilation. Spook was never a part of the rock scene in

New Brunswick, yet he has been performing in and around the HUB City since the mid eighties. He ran a weekly open mic at the Corner Tavern "The Spook Handy Show" for 20 years, 1985-2005. He's released three solo albums and performed at folk festivals all over the country. His original song 'Vote' was recently recorded by the legendary Pete Seeger. Perhaps, in the end, a 'where are they now' snapshot is not particularly relevant for Spook Handy. In 2006, he is doing pretty much the same thing he was doing ten years ago, albeit to bigger audiences and as a more established and veteran artist. At the time, I took some heat from some of the NBU rock acts for including Spook on the compilation…but ten years later, maybe he's got the last laugh: he's one of only two acts (the other being The Stuntcocks) from NBU that's still standing.

FLOODROOM
Led by singer/songwriters Bryan Merrits and TJ Scott, and backed by a revolving cast of ace local players, Floodroom kept the bars, back rooms, and dance floors of New Brunswick cookin' with a high energy blend of funk and rock. While not a particularly prolific recording act (I don't think they ever actually released an album), Floodroom kept to a steady live schedule until playing their final official show at the NBU record release party in October '96. Drummer John Swayne went on to join Matt Witte's New Blood Revival, while guitarist Gary Griffin collaborated with virtually every musician in New Brunswick over the years. Original bassist Toby Record moved to California and now runs AllEars Music which places indie music in films, while latter era bassist Pete Novembre went on to play with Fatty Lumpkin and a slew of other acts, and then moved to the west coast where he played in the OM Trio for a time.

HI PRO GLO
Vocalist 'Elmo Glo' and guitarist Kevin Blechert had played together in various incarnations for nearly a decade (including Mother Hubbard's Children, of which yours truly was a member for about three weeks in 1989), before teaming with bassist Catfish Kessler and drummer Steve Evans to form Hi Pro Glo in 1996. The band used NBU as a springboard into the local music scene and soon became staples on the club circuit and a personal fave of local music writer Chris Jordan, who championed them consistently in the Home News. The band released two CDs before disbanding for good around the turn of the century. Not much of an idea what happened to the Hi Pro-ers after that, though I did run into Elmo at Dunkin Donuts about a year ago. He seemed to be doing okay, though our somewhat incoherent conversation led me to believe that he was no longer a performing musician.

THE STUNTCOCKS
There may have been tighter bands. There were definitely prettier bands. But perhaps no band epitomized the city's rock n roll scene more than The Stuntcocks. Formed in 1996 as a 'side

project' of Johnny, J.J., Joey, and Bobby, the 'Cocks welcomed a countless array of guests (Dickie), temporary members (Kinicki, Little Jimmy), and replacements (Iggy, Ziggy) over the years, connecting them in six degrees fashion to virtually every musician who's ever called New Brunswick home, and in the process assumed near-legendary status among local scenesters, hipsters, and hangers-on. Slop-punk anthems like "The Pact," "Basement," and NBU contribution "She Gets All Her Pets High", whether performed by the Stuntcocks themselves or as covered by Bionic Rhoda or Boss Jim Gettys back in the day, provided the soundtrack to many a booze-fueled HUB city night. The Stuntcocks are still around in '06, God bless 'em, thought their shows have gotten fewer and further apart these days, and the lineup is a revolving door with Johnny now as the sole mainstay. Three years ago, they released a full-length album, and last I heard, there were tentative plans for a follow up. Cock rock forever baby.

STAMPEDE
The only metal band to represent on NBU, Stampede were a power trio fronted by Rob Hampton (guitars/vocals) backed by brothers Brandon (bass) and Brian (drums) Troisi. Hampton left the band before NBU was even released, and Stampede morphed into Firstborn when Scotty Skillz (vocals) and Tony the Bone (guitar) joined the Troisi brothers. Firstborn played quite a bit locally in the late 90s (though straight-up metal was never really too much of a major thing in New Brunswick) until Brandon and Brian left and Scott and Tony went on to form D-9 with some other musicians. I've kind of lost track of these guys, though I believe Brian Troisi is still in the game as an engineer and session drummer at his own home studio.

CRASH A.D.
An enigma wrapped in a mystery surrounded by a riddle. Crash A.D. is the NBU band that I know the least about. I never saw them play live. I never even met them. They never gave me any information for the compilation's liner notes. They didn't perform at the record release party. In fact, I'm not even sure how many people were actually in the band. Basically, after they mailed me their song I never heard from them again. So…open letter to Crash A.D…wherever you guys are and whatever you're doing in life, I hope you are happy and well. Thanks for being part of NBU way back when.

SUBURBAN LOUNGE ACT
A buzz band at the Melody for a time in the early to mid nineties, Suburban Lounge Act's core lineup of vocalist Joe Schultz, guitarist Mike Wallsten, bassist Tony Simpson and drummer Brendan Farragher (with whom, coincidentally, I played my first-ever gig…way back in 1985) disintegrated prior to the release of the NBU compilation. A reconstituted trio version of SLA featuring Wallsten, Simpson, and vocalist/drummer Mike Findeis carried on well into this decade, but their performances became less frequent over the years as the members became involved elsewhere. Simpson, a military reservist, was called to active duty after the 9/11 attacks, leaving little time for rock. Findeis played with tribute band Sack Blabbath for a number of years, and in 2005 he opened MF Rehearsal Studios at 120 Jersey Avenue, New Brunwick.

SHRUBS
Never really a 'New Brunswick band' by any stretch, the Goshen NY-based Shrubs came to my attention by way of zany drummer/vocalist Rob Tak who lived in South Plainfield at the time and scored the band some gigs in the central Jersey area. Rounded out by bassist/vocalist Bob Torsello and guitarist/vocalist Jay LoRubbio, the retro-sounding trio released four full-length CDs starting in the mid nineties up through 2002's Misfits and Dreamers: Songs for the Shrub Conscious. Older guys who never lost their zest to rock, there was something oddly compelling about their music, especially their song 'Space Thrust' (which was actually a cover of a song by Rob Tak's previous band Vas Deferens) which served as a fitting coda to the NBU compilation. I lost track of the Shrubs a few years ago and their website came down, so its possible they've finally packed it in.

Originally published on NBUnderground.com 10 Oct 2006