February 2004
SLOWING DOWN WITH VAL EMMICH
By Mike Doktorski

New Brunswick-based singer/songwriter Val Emmich, 24, first arrived on the local scene in 1998, as frontman for quirk-rock ensemble Ben Trovato. Following the demise of BT, Emmich briefly fronted another band, Awake Asleep, before re-casting himself as a solo artist and sometime actor, appearing in an assortment of television shows (Third Watch, Hope and Faith) and commercials (AT&T Wireless, Got Milk?, Burger King). His debut solo effort, a concept EP called The Fifteen Minute Relationship, explored the story arc of a doomed relationship against a backdrop of sparse, acoustic-based arrangements. Last year, Emmich released Slow Down Kid, a fully realized collection of deeply personal songs bathed in shimmering melodies and convincing pop-rock sheen.
In December 2003, Emmich signed a recording contract with Epic Records, who will re-release Slow Down Kid nationally later this year. Then, he and his band will hit the road for the remainder of 2004, building an audience show by show…or the "old-fashioned way" as Emmich puts it. Prior to departing for Los Angeles, where the band will record some new songs with producer Mark Trombino, Emmich graciously took the time to share with Night and Day his thoughts on music, songwriting, politics, and things in between.
ND: What was the first record you ever purchased?
VE: First of all, it was probably a cassette tape. Those were big when I was young. And it was probably something like Def Leppard's Hysteria. They were a band that was catchy enough for kids to be into. I spent my own money on it. But I've since lost it. Gladly, actually.

ND: When/how did you start playing guitar and writing songs, and how would you describe yourself as a guitar player?
VE: As soon as I started playing guitar, which was at age 15, I started writing songs. The two go hand in hand for me. I've always viewed the guitar as a tool I could use to write songs. I've never focused on being skilled at guitar playing itself but rather on writing good songs using a guitar. So I would describe myself as an average rhythm player at best.
ND: Do you have a favorite singer/songwriter?
VE: Hard to say. A few that I really admire are John Lennon, Paul McCartney, Kurt Cobain, Bruce Springsteen. More recently, I've been impressed and inspired by Conor Oberst of Bright Eyes.
ND: What song are you proudest to have written, and how do you feel your writing has evolved?
VE: I'm proudest of a song whose parts all seem to fit together effortlessly....lyrics, song structure, vocals, music. Everything is one unit. I think the greatest songs of all time have it all. They don't lack one of those elements. Not only is the melody strong but the lyrics have meaning as well. I'm not sure that I've written a song like this yet. I think that's what motivates me. Trying to write my ideal song.
ND: "Privacy Attracts A Crowd" is written (correct me on this!) around the concept that the more guarded something is, the more attention it garners. Why do you think this is so?
VE: That's correct. I'm not sure why that is. I think that's why I wrote a song about it. Because it irks me. I was asking myself that question: "Why is that?" or "Why does that have to be?" I think people just love a good mystery. When someone is quiet, people think they are hiding something. It may just be that they have nothing to say but people's imaginations get away from them and they start making it out to be something bigger than it really is. The other thing that drives the song is the emotion one feels when something that is their own private secret or possession is stolen or made public. Whether it's a place, a person, or an actual secret. It can be applied to so many things that one experiences in life. For example, I remember being in high school and falling in love with an underground band that not many people knew about and then they got big and everybody loved them. And I felt like my personal possession was stolen and had gone from private to public. And I felt like that band was not mine anymore but everybody's and it made me angry. I think you can feel that kind of angry reaction in the song.
ND: What are you looking forward to most in 2004?
VE: I am very excited to record with producer Mark Trombino. I am a huge Jimmy Eat World fan -- especially their album Clarity -- and Mark did all their records. He also did Blink 182's breakout record Dude Ranch and bands like Finch and Something Corporate. We'll be recording in Los Angeles for the entire month of February. After that, I'm looking forward to hitting the road in a van that's not going to break down every other day. Overall, I'm just really excited to have a chance to be out there and to have my music exposed to a greater number of people.
ND: Who are you going to vote for in November? Do you follow politics?
VE: I do follow politics. I've been watching the Democratic race. I'm not ready to make a decision yet. As far as who to vote for in November, I can't decide that until it's narrowed down to two candidates. But I will say that so far all the Democrat hopefuls look really desperate. Like they are begging for public support. It's unattractive. I think anyone who can hope to be President needs to have a quiet confidence. They can't look vulnerable or desperate when there is an entire population looking to them for hope and strength. Oh well, that's just my opinion. What do I know?
ND: How did the Epic deal come about, and how is the new record shaping up? Describe what you see yourself doing over the course of the next year.
VE: Due to some exposure by MTV and some good press, we started getting noticed by lots of labels. I would venture to say that I performed for 10 different labels in October of 2003. In the end, I felt that Epic understood me and what I wanted out of my career. Basically, I needed a label who was willing to put me out on the road in a quiet kind of way and let me build a following instead of just dumping a shitload of money into a single and a video and hope that one of my songs puts me on the map. In the latter scenario, I go on the road and I have nobody coming to the shows. A perfect example of that is Fountains Of Wayne who I personally love. Their song was everywhere and still the show we played with them at the Starland Ballroom in December in their home state suffered from miserable attendance. The plan for me is to record 4 new songs with Mark Trombino, rework & remix 6 existing tracks from Slow Down Kid, release the CD in late Spring and then just tour my ass off for the rest of the year trying to build momentum show by show the old fashioned way.
ND: What's the last book you read?
VE: "The Last American Man" by Elizabeth Gilbert. It's a true story of this guy Eustace Conway who lives by himself on a 1000 private acres of land in the mountains of North Carolina. He lives completely off the land, killing or growing what he eats, and he teaches kids to be more self-sufficient at a camp he created on his land called Turtle Island. It is really inspiring and startling that this man can do this considering the fast pace state-of-the- world today. I am very intrigued by the speed at which we live which is evident by the title of my CD Slow Down Kid.
ND: What other NJ bands do you admire?
VE: I love Hero Pattern. They make very sonic, very smart rock music and they are the nicest bunch of guys. I'm into The Milwaukees and ReadyMade Breakup (formerly The Blakes). And I think The Wrens have made one of the best albums to come out of NJ in a long time with The Meadowlands.
ND: What's the best thing/worst thing about NJ's current music scene?
VE: I think the best thing about NJ's scene is that there is never a short supply of bands and talent. We're a very densely populated state and it seems like there are new bands popping up everyday. Unfortunately i think that is also the worst thing about the scene. There are so many bands that it's hard to get support for one over the other sometimes and it's hard to bring them all together in one focused scene. §

This interview originally appeared in the February 2004 issue of Night & Day Magazine.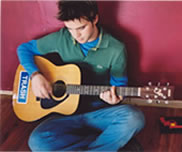 Val Emmich Discography

The Fifteen Minute Relationship (EP) (Childlike/Artist Amplification 2001)

Slow Down Kid (Childlike/Artist Amplification 2003)

Slow Down Kid (Epic 2004)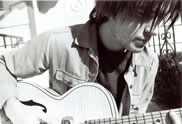 For more info, click over to Val Emmich's official website.